The Pakistan Cricket Board said Saturday it sought clearance from the International Cricket Council's anti-corruption unit before selecting fast bowler Wahab Riaz for next month's test series against England.
Riaz was not picked for Pakistan's last two series against Sri Lanka and Bangladesh for unknown reasons.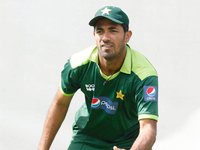 Spokesman Nadeem Sarwar said in a statement the PCB approached the anti-corruption unit "as a precautionary measure" to seek any relevant information about Riaz.
"In the absence of any observation, the PCB proceeded with selecting Wahab (Riaz) for the England series," Sarwar said.
Three Pakistani cricketers are in prison in England after they were found guilty of spot-fixing during a test match against England in 2010.
Former captain Salman Butt was sentenced for 2 years, fast bowler Mohammad Asif for 1 years and young paceman Mohammad Amir for six months.
Wahab, 26, was a key component in Pakistan's bowling lineup in the absence of Asif and Amir in 2011.Although Pakistan lost the World Cup semifinal against archrival India in March, Wahab took 5-46. He went on to claim another seven wickets in the one-day series against West Indies shortly after the World Cup before he was rested for the series against Zimbabwe.
Wahab traveled with the Pakistan team in October to the United Arab Emirates for the series against Sri Lanka but was never picked in the playing XI for test matches before being dropped for the limited-overs series.
"We would like ICC's anti corruption unit to share any information on our players with PCB in order to jointly proceed in such matters," Sarwar said.
"We hope we are able to establish that protocol in the future."
ICC's chief executive Haroon Lorgat said in a statement that "it remains the absolute right of a member board to decide which player it wishes to include in a squad or select in its team for any match."
Lorgat also said that the ICC's permission is only required for selection if a player has been charged, provisionally suspended by the ICC or banned by an independent tribunal.